14th Annual Tucson Trunk Show
The 14th Annual Tucson Trunk Show is over, but you can still see featured items and shop for them in the safety of your own home! Check out our new Tucson Trunk Show Collection on our Online Store. It takes a while to process several truckloads of inventory, but we are adding to the collection daily, So, check back often!
Our expert buyers relentlessly scoured the Tuscon Gem & Mineral Show for weeks to find the best specimens and negotiated prices to pass on the savings to you. We have so many treasures to share with you and we don't want you to miss out on these fantastic finds at great discounted prices. Shop our Tucson Trunk Show Collection today!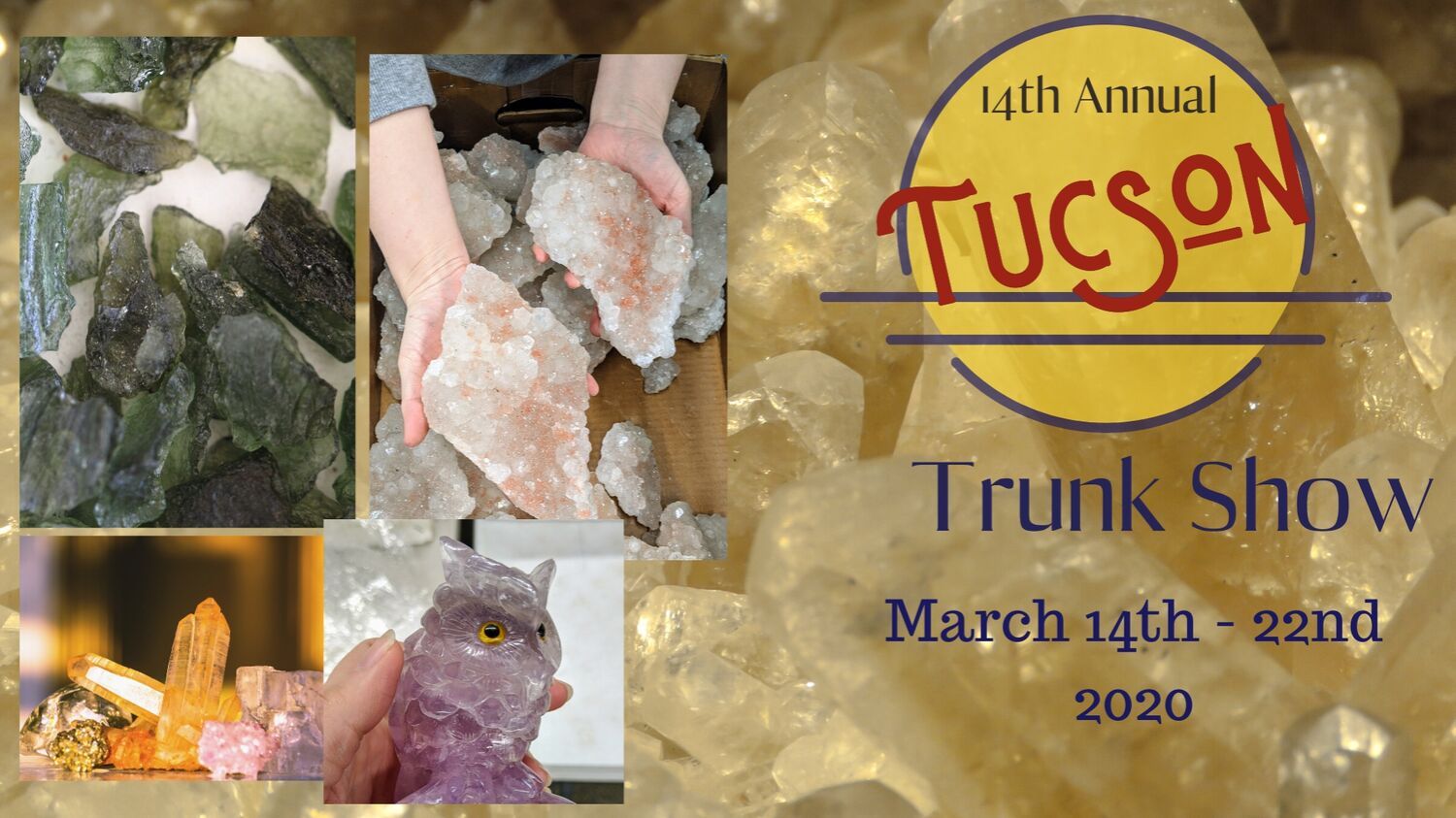 Truckloads of New Treasures
Get 1st pick of new minerals, jewelry, fossils & more!
Stock up on your favorite items & discover new ones!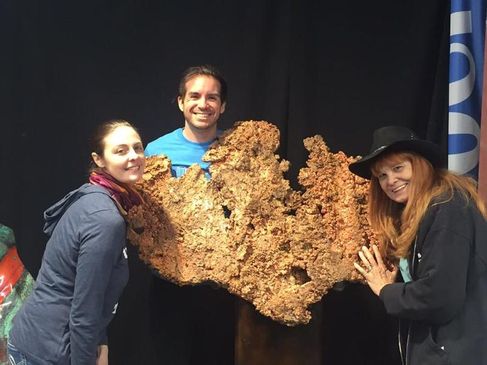 Our expert buyers scout the largest Gem & Mineral Show in the U.S. hosted annually in Tucson, Arizona for the best deals, newest finds, & treasures you didn't know you couldn't live without, & bring them back to our store in Austin, Texas by the truckload. We process tons of new inventory in just a few days to restock our Retail Showroom, Rock Yard, Rock Depot & Online Store, & then open our doors to let eager customers get first pick of exciting new products!
Shop Early for the Best Selection!
New favorites sell out quick!
Savvy Trunk Show Shoppers arrive early & keep coming back during the event, as we keep adding more & MORE & MORE!! When one flat is empty, another magically appears with a new selection of hand-picked treasures from Nature to add to your collection.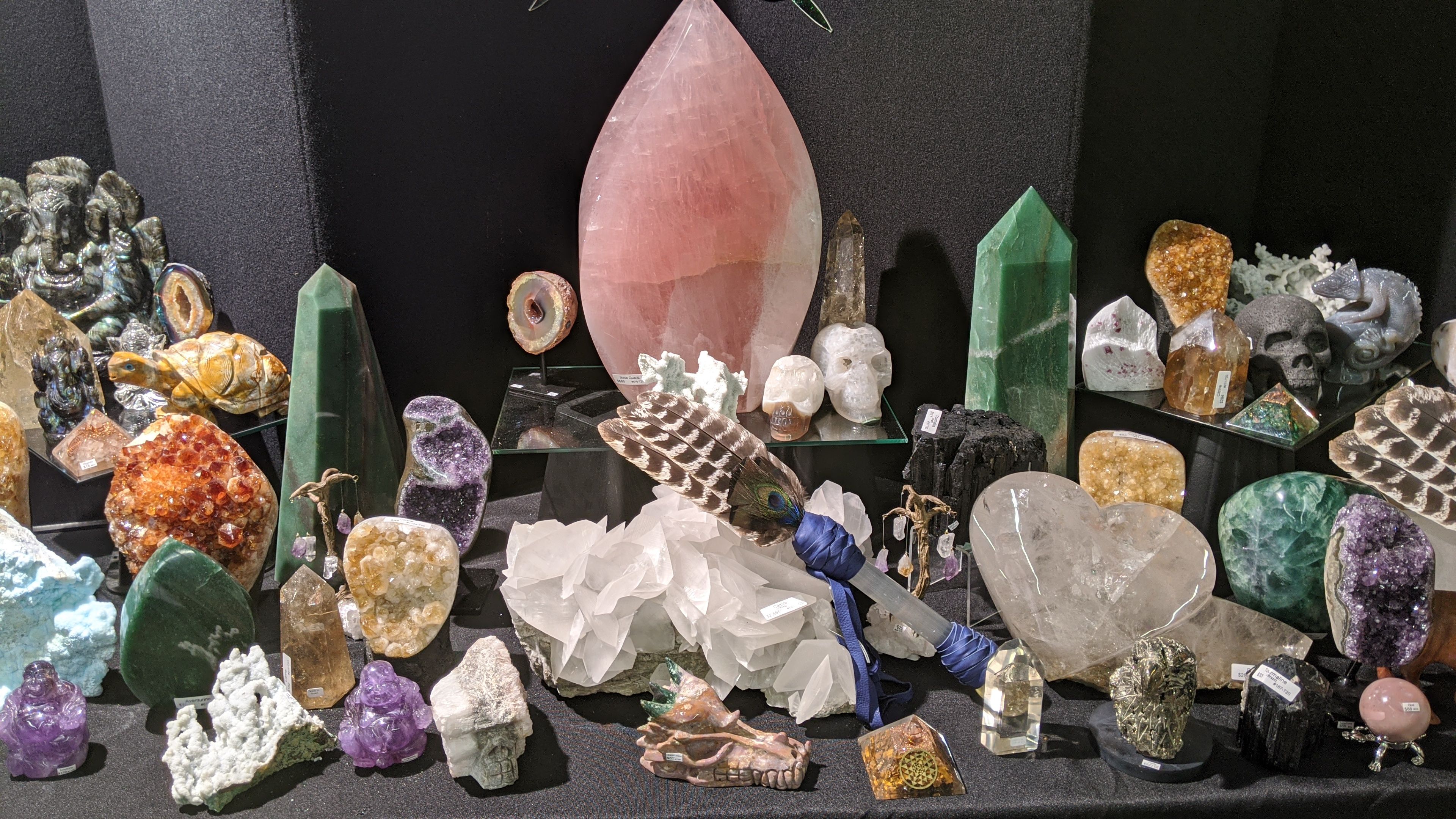 14th Annual Tucson Trunk Show available Online
We are adding featured products from our Trunk Show to our Online Store! New Products are being added daily, so check back often! Click the photo to shop the collection. Other products are still available by viewing the galleries on the website, or on Facebook and Instagram. As always, just message us if you would like to purchase something you see.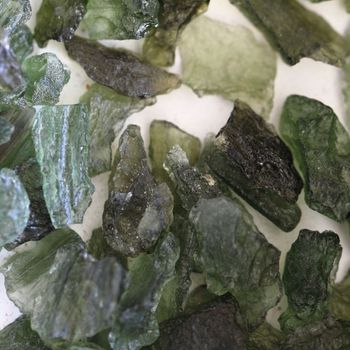 High Energy Stones at the Front Counter
Lazurite, Peridot Crystals, Herkimer crystals, Callaghanite, Moldavite loose pieces & carvings, Aquamarine crystals. Check our other new gemstones & crystals in the "Weigh Case" too!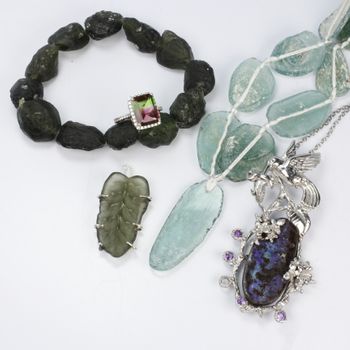 New Jewelry!
Seed bead jewelry, Boulder Opal jewelry & carvings, Poison Rings and Charming Gemstone Strands! Moldavite, Herkimer, and Amber jewelry, as well as new drop pendants in exotic Afghanite and essential Black Tourmaline. Also check out our new selections of Men's Rings, Sterling Silver Designs, including Totem Animals. We've added more Designer Gold and Titanium plated jewelry and the most adorable carved gemstone perfume vial necklaces! Helenite, and Watermelon Tourmaline and many more new stones to choose from!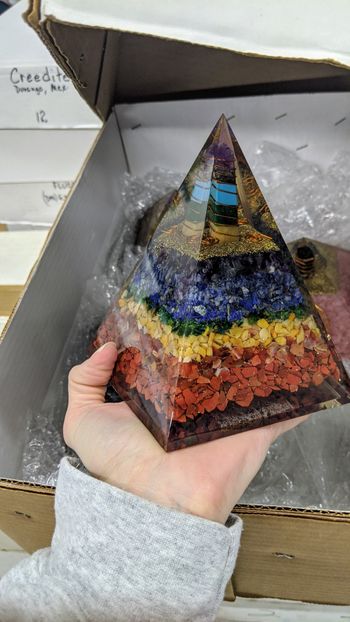 New Metaphysical Gifts!
Amazing Orgonite pieces, including high energy pyramids, charging plates and spheres. New Egyptian & Buddhist items, hand carved from teak, flashy labradorite, and more stone choices. Tibetan Singing Bowls in new styles. Craftsman-made smudging feathers, and natural wands of native woods. New crystal tools for energy work and healers.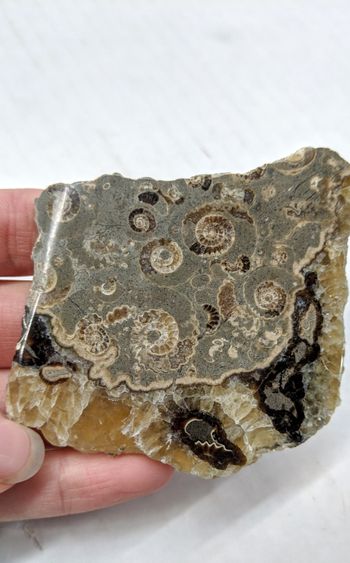 New Fossils!
Check out new selections of collectible fossil specimens for the Beginner & for the Fossil Enthusiast! Fossil Pine Cone Specimens, trilobites, and delicate fern frond fossils. We found some beautiful tiny ammonites in calcite, and high quality Septarian.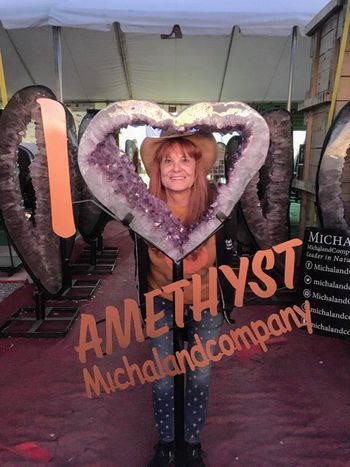 New Gift Items & Home Accessories!
Illuminate & Energize your environment! Our new selection of Mineral Lamps & Lighting, Decorator Onyx Lamps, & Stunning Crystal Accent pieces let you Bring Nature Home in beautiful new ways.
Elegant amethyst and citrine clusters, free-standing or on iron stands.
Large mineral and crystal free forms and carvings for your home or office.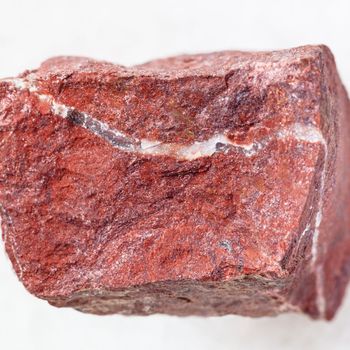 New in the Rock Depot!
Exotic stone cabochons, slabs and drilled pieces for jewelry making & more!
New jaspers (Bamboo, Brecciated, Bumblebee), Snakeskin, Red Jasper & Green Nephrite Jade, Maw Sit-Sit Jade, Black Goldstone, Sunstone, Bronzite & Hematite Seam Agate.
All the tools and supplies you need for your lapidary project.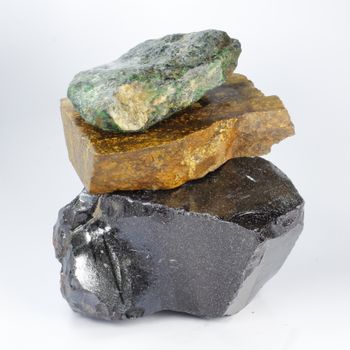 New in the Rock Yard!
New Landscaping stone selections - Landscaping Rocks include Pagoda Stone, Fuchsite Boulders, Mookaite

Boulders, Rose Quartz Boulders.

Restocked Black Tourmaline, Paraiba Kyanite, Atlantisite, Rose Quartz, Amethyst Druzy Standups, Amethyst Clusters, Mookaite, plus hard to get Lapis and Blood Stone by the pound!
Sneak Peeks!
Truckloads of new minerals, crystals, jewelry, and a few surprises too!
Sign Up for Trunk Show Updates!
Get more sneak peeks and information about the Tucson Trunk Show at Nature's Treasures right in your Inbox!