15th Annual Tucson Trunk Show
April 1 - April 30, 2021 11 a.m.- 5:50 p.m. 7 Days a Week in the Auditorium
The 15th Annual Tucson Trunk Show is here! Check out featured items, restocked favorites, and of course new surprises on display in our Auditorium at the Retail Store now thru April 30, 2021 It takes a while to process several truckloads of inventory, but we are adding to the collection daily, So, check back often! Download our flyer.
Our expert buyers have been working with our mining sources and vendors for weeks to find the best specimens and negotiated prices to pass on the savings to you. Many of our vendors and friends in the mining industry around the world have come up with creative ways to work with the travel limitations and so many shows being canceled or rescheduled, and we are excited to take this next step of the journey with them! We have so many treasures to share with you and we don't want you to miss out on these fantastic finds.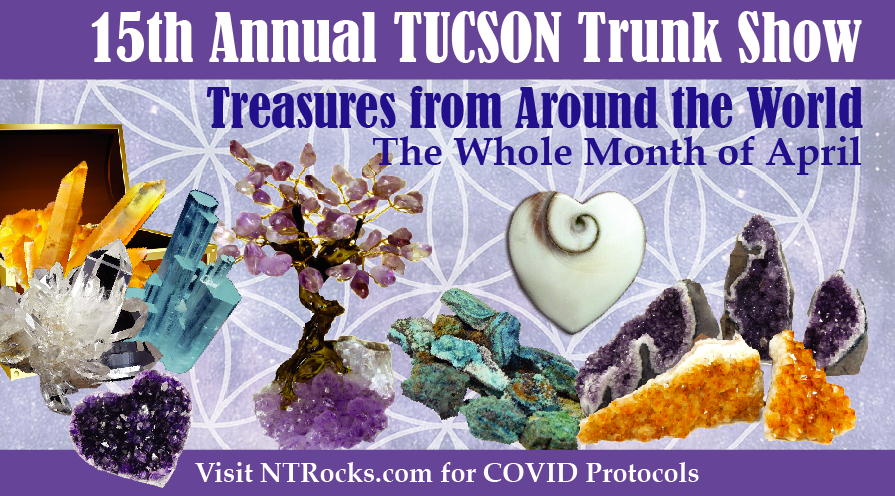 15th Annual Tucson Trunk Show Stage 3 COVID-19 Protocols
Thank you to everyone who has continued to support Nature's Treasures during this pandemic. We know everyone is ready for things to be back to normal, and so are we! However, until then, we still want to proceed wisely using the following COVID-19 Protocols to keep everyone safe and accommodated. If you feel sick or show symptoms, please STAY HOME.
*2-ply masks that cover both nose and mouth will be required at all times while in the store.
*Physical distancing will continue to be enforced. Green lines have been drawn outside to indicate where to wait for entry and blue lines indicate where to wait for checkout.
*Main Building has 1 Entrance in the Auditorium and 1 Exit in the Showroom; Rock Depot has a separate Entrance/Exit
*Capacity will be increased to 100 customers (approximately 50%) in the Auditorium Trunk Show/Retail Showroom and 18 customers in the Rock Depot/Yard.
*1 restroom will be available for customers
*No food or drink allowed
*Hand sanitizer will no longer be required upon entry
*Services Animals ONLY will be allowed entry; does NOT extend to therapy or emotional support animals
*Limited in-store services will be available
*Practitioners will be available Monday through Friday until 4pm
~Thank you for your patience and cooperation as we bring you treasures from around the world!~
Truckloads of New Treasures
Get 1st pick of new minerals, jewelry, fossils & more!
Stock up on your favorite items & discover new ones!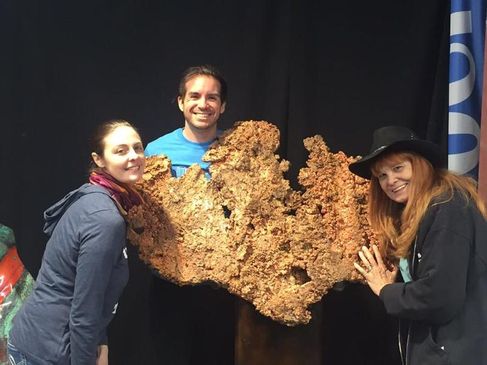 Our expert buyers scout for the best deals, newest finds, & treasures you didn't know you couldn't live without, & bring them back to our store in Austin, Texas by the truckload. We process tons of new inventory in just a few days to restock our Retail Showroom, Rock Yard, Rock Depot & Online Store, & then open our doors to let eager customers get first pick of exciting new products!
Shop Early for the Best Selection!
New favorites sell out quick!
Savvy Trunk Show Shoppers arrive early & keep coming back during the event, as we keep adding more & MORE & MORE!! When one flat is empty, another magically appears with a new selection of hand-picked treasures from Nature to add to your collection.
Sign Up for Trunk Show Updates!
Get more sneak peeks and information about the Tucson Trunk Show at Nature's Treasures right in your Inbox!