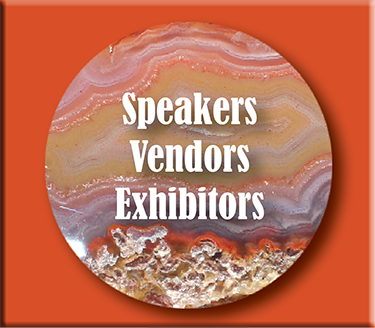 Expo Highlights
Scores of Vendors
Dozens of Agate Collections on Display
Lectures & Presentations
Auction
Keynote Dinner
Daily Raffles & Door Prizes
About Our Speakers!
As unique as banded gemstones themselves are the experts in the field. The speakers for the International Exposition of Agate include some of the most famous names in the agate world: Dietrich Mayer of Germany, Pat McMahan of Arizona, Luis de los Santos of Argentina, Lori Lytle Coleman of New Mexico, and more.
As long-time collectors, miners, dealers, and/or authors of agate books, all will show their expertise with a wide variety of agates including Laguna, Aouli, Condor, gem dinosaur fossil, Moctezuma, and Union Road, from such diverse locales as Mexico, Indonesia, Namibia, Australia, Germany, Morocco, Argentina, and of course the United States.
Some of the most valuable information in the world is not found in books!
Seating is limited, therefore admittance is limited to those with tickets specifically for the Speakers. Get the VIP Package and get unlimited admittance to all the events of the Expo, 4 days of Speakers & Exhibits, and the Live Auction and Keynote Dinner with Lori Coleman.
Speaker Schedule
Thursday, June 6th, 2019
2:00 p.m. Rob Burns on Australian and Indonesian Agate. Rob has been collecting agates all over Australia and Indonesia for decades.
3:00 p.m. Al Celli/Roland McIntosh have extensive knowledge of Kentucky agates. They will explain where the agates are found, how they are mined, and the characteristics of great Kentucky agates.
4:00 p.m. Steve Bussan a native of Michigan, has collected agates and copper minerals all his life. His specialty is the rare copper replacement agate, especially those from the area of the Wolverine Mine of the Upper Peninsula of Michigan.
5:00 p.m. Holger Quellmalz is from Germany and a real expert regarding Moroccan agates. Herr Quellmalz has traveled to Morocco many times since the 1970s in search of Aouli, Bouhamza, and Agouim agates, as well as agates from the Tizi n'Tichka Pass area. He will differentiate among the various kinds, and explain what characteristics cause their value.
Friday, June 7th, 2019
2:00 p.m. Luis De Los Santos on Agates of Argentine, Luis is perhaps most famous for naming the beautiful condor agate of Argentina and was the first to bring them to the United States. He has dealt in many kinds of agates from Argentina for decades. He will show examples of them and describe their origins.
3:00 p.m. Jason Brown on mining Moctezuma Agate. Jason is known for bringing larger Moctezuma agate specimens to the avid collector. Pastel colors and wider bands distinguish the Moctezuma from other northern Mexico varieties. He will discuss the areas where they are found and his mining and production processes.
4:00 p.m. Alan Meltzer on Agate in Dino ( Gem ) Bone. Alan's specialty is gem dinosaur bone. This fossil, rarely replaced by agate, is most frequently found in the Four Corners region of Utah. He will describe the structures, what to look for, how to characterize the values, and display great specimens.
5:00 p.m. Dietrich Mayer speaking on German Agates. He is the author of More Exquisite Agates, and famous for his many years of experience in sourcing and describing agates from Germany. He will talk about the many locations of agates in Germany, including Idar-Oberstein, one of the first agate gem factories in the world.
TBA Larisa Shanaeva a collector of many kinds of agates, will talk about agates from Russia.
Saturday, June 8th, 2019
2:00 p.m. Michael Kallstrom MS Geology, will discuss fluorescence in agates, including the cause of fluorescence, the more common types of fluorescent agates, and show many examples of them.
3:00 p.m. Pat McMahan author of Agates with Inclusions and collector of many kinds of agates, will focus on agates of the Southwest USA, especially those of Arizona. He will also explain many inclusions and pseudomorphs in agates.
4:00 p.m. John D. Marshall, author of The Other Lake Superior Agate, will discuss Lake Superior agate, especially its unusual varieties and characteristics, and their origins and current locations.
5:00 p.m. Philip Stepheson
Sunday, June 9th, 2019
2:00 p.m. Josh Ritter will speak about his various travels to Africa to obtain agate for collectors and lapidary from countries including Mozambique and Malawi.
3:00 p.m. Robert Cooper
Exhibitors List
Brad Cross – The Hooded Owl (Apache agate from Chihuahua, Mexico)
Alan Meltzer—Gem Fossil Bone with agate
Rob Burns—Australian agate
Hannes Holzmann—Chinese Fighting Blood agate
Lori Lytle Coleman—New Mexico Thunder-eggs
Jason Brown—Moctezuma agate
Douglas Morgan—Agua Nueva agate
Ira Andrew Bradford—River Crossing Condor agate
Luis de los Santos—Argentine agate
Al Celli—Kentucky agate
Gary Wiersema—Purple Passion agate
Jerry Howard—Petrified wood with agate
Larisa Shanaeva—Russian agate
David Juelf—Union Road agate
Bill Gaumer—Hart Mountain jasper, pseudomorphs from Hart Mountain and agate
Mark Boche—Laguna Agate
John D Marshall—Lake Superior Agate
Brian Costigan—Lake Superior Agate
John Rowland—Assorted Agates
Denise M Harrison—Agate Cabochons