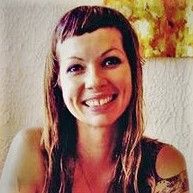 Anaya Swan
Psychic Reiki Priestess
Anaya Swan is a magical artist, musician, seamstress, and Reiki Master who uses Tarot as a self-awareness empowerment tool. Anaya is very passionate about health and healing, counseling, and psychic work and desires to share her gifts and talents as part of her service to the world.
Transmute. Transform. Evolve.
In a Tarot session with Anaya, the present energies surrounding your life will be revealed along with the architecture that created them, the various crossroads ahead of you, and what may be waiting for you behind doors not yet opened. With the information presented in one of Anaya's Tarot readings, you'll find the spiritual guidance needed to make choices that cause liberation, healing and overall well-being. This, in turn, deepens the greatest good of all beings.
With deepest gratitude for all her my many teachers, Anaya thanks the city of New Orleans, the flowers and creeks of the central Texas hill country, Mambo Casey Leigh for sharing her deep knowledge of the tarot with me, and Laura Mattingly and Dr. Geryll Robinson for initiating me into their respective Reiki lineages.