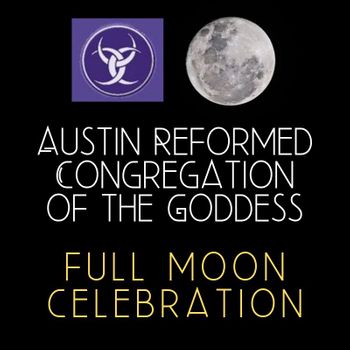 Austin Reformed Congregation of the Goddess - September/October Full Moon Celebration
October 3, 2020 7pm - October 3, 2020 9pm
This year, the Harvest Full Moon occurs in October instead of September which is then followed by the Hunter's Full Blue Moon on October 31: Halloween! This means three powerful energies jam-packed into one already magical month!
Join us on October 3rd for our celebration of October's first full moon with a ritual hosted by Austin Goddesses! This Harvest Full Moon is also known as the Corn Moon or Barley Moon because it usually occurs so close to the Fall Equinox (September 22, 2020). This is the time of year when the moon rises over the horizon soon after sunset, appearing larger than usual and creating a gorgeous, orange glow. Farmers and harvesters used this bright moonlight to help gather crops.
A group of self-identified women, Austin Reformed Congregation of the Goddess (ARCG) gathers for community, rituals, magic, and multiple spiritual traditions in order to honor Divine Feminine energy. This sisterhood is an eclectic mix of females who describe themselves as independent, courageous, and powerful.
Our events are designed for women over 18. A donation of $10 would help with the cost of the rented space and supplies.
All events are designed for fun, learning, and community! Visit Austin RCG on Facebook for more information!