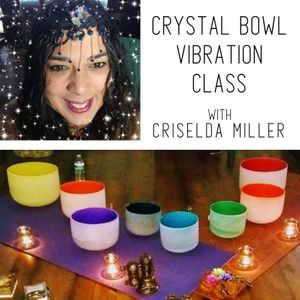 Crystal Bowl Vibration Class
October 23, 2019 7pm - October 23, 2019 8pm
Come share in the healing vibrations of this class where Criselda Miller fills the room with sound that invokes gratitude, love, appreciation, and relaxation with the energy of her Crystal Singing Bowls. Recharge your body and mind.
Please arrive early so your entrance does not disrupt the experience of other guests. Bring a blanket, pillow, yoga mat or whatever makes you comfortable and cozy. It is also a good idea to drink water before arriving. The human body is roughly 60% water which is an excellent medium for receiving and transferring sound vibrations.
Private sessions are also available for those interested.
Contact qzisgrateful@gmail.com to get more information and RSVP.