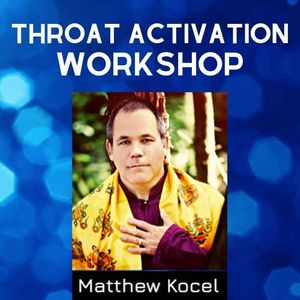 Throat Singing & Vocal Activation Workshop with Matthew Kocel
November 17, 2019 10:30am - November 17, 2019 5pm
Reclaim your voice, activate your Throat Chakra and learn how to throat sing all in one day! The human voice is the ultimate tool for transformation through sound.
In this playful full-day immersion, Matthew will reveal the secrets of how to create multiple notes at once with your voice - for healing, meditation and to enhance awareness... or just for fun!
More than a workshop, this immersion into the field of harmonic sound is a direct path to claiming your voice. Through sonic transmission and simple, fun exercises that you can practice at home, you will clear energetic blockages in your throat center and experience vibrational attunement with your surroundings.
This will be a day that you will never forget.
---
"You made this so easy and accessible... I found my voice!" - Meryl in Brooklyn, NY
"Unbelievably mind-blowing... I felt it deep in my core." - Wendy in Vancouver, BC
---
A new realm of experience through sound and frequency awaits you. Based on past experiences, SOME people will even be able to create the Tibetan/Tuban deep harmonic sound by the end of the day!
Class size is strictly limited to 25 participants. Prepaid registration is required to attend.
Tickets $120
Reserve your space now on Eventbrite.
For more information, visit Matthew's website.