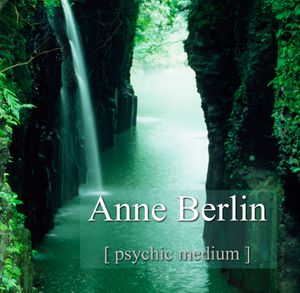 Anne Berlin
Spiritually Based Medium & Clairvoyant
Warm and empathic, Anne Berlin offers confidentiality and vast experience. Psychic as a child, Anne can answer your questions or give you the most important messages from your angels and guides.
In addition, Anne is a trained evidential medium, able to communicate with your loved ones in spirit. Those in spirit are drawn to her energy and her ability to help those on both sides of the veil.
The skills that help her communicate with pets and ghosts, also give her the ability to clear spirits from homes.
Those in the community marvel at her ability to plug directly into the grid, accessing higher beings such as angels, archangels and ascended masters to help guide those in need.
Anne Berlin, Psychic Medium, Clairvoyant. Available 7 days a week by appointment on Phone and Zoom. Available In-person on the 1st Sat. of every month at Nature's Treasures: Walk-in or Book in advance. Schedule readings through her website or Schedulicity.
Website: https://psychicanneberlin.com. Call or text: 512-980-4025. Please no email. Rates: start at $45 for 15 minutes.