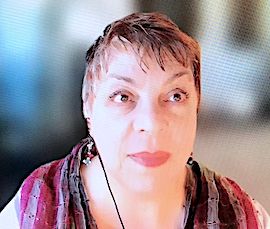 Francesca Fleming
Francesca is a Medical Medium Intuitive and Energy Healer. She has over 40 years experience.
With her channeling, a 'guiding map' to your physical, emotional & spiritual bodies is created with specific solutions unique to your body. She trained with Spirit since birth. Her grandmothers told the family what she would be. Francesca has mentored with C. Myss, B. Brennan, Donna Eden, Dr. Frank Alper, Stephen Co and others. She is a Usui Reiki master, Pranic Healer Advanced, and Vibrational healer. Clients have claimed her channeling is a cross between Edgar Cayce, Caroline Myss, Anthony Williams and Tibetan shamanism. Member of the IAMI.
She is the right practitioner if you feel your body is speaking to you. Are your Angels? You're ill but a cause cannot be found and you don't know where to start to resolve it? Or do you have a diagnosis, and want to know specifically what to do to support your healing — be it nutrition, energy work, herbs, etc.? Do you want to identify any 'issues in your tissues' that may underlay your condition? Appointments available. Book at Be-Joy.com.