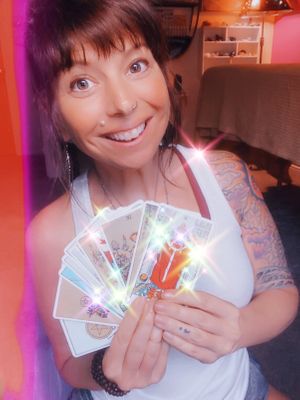 Freedom Jennings
Aura Soma Practitioner, Reiki Master & Tarot Reader 
Freedom Jennings is a healer, energy worker, psychic channel and intuitive life coach. She has been reading tarot for over 26 years. She is a Level 3 Licensed Aura-Soma Practitioner, and is a Certified Crystal Healer studying at the Hibiscus Moon Crystal Academy.
She creates a custom session for each client based on their particular needs so that whether you are needing healing, life-coaching, chakra rebalancing, or lessons on metaphysics you will leave the session feeling lighter and with more clarity!
Freedom channels and connects to the Ascended Masters, Angels, Elementals and members of the Galactic Federation. Sometimes her work includes being a medium for those who have crossed over, should they choose to come through. Working with your Spirit team and hers, she can help to deliver the information you need for whatever juncture of life you find yourself in!
Modalities and other tools currently offered:
Tarot, Aura-Soma, Healy, BioMat, Reiki Master, Violet Flame Healing, Golden Light Healing, Crystal Healing, Intuitive Life-Coaching
You can also find Freedom teaching a variety of courses around town on Shadow Work, Tarot, Reiki Attunements/Energy Work, and Metaphysics. To see her current course schedule, please visit www.austinpsychicreading.com
Freedom Jennings: Healer, Psychic, and Intuitive Life-Coach.
Available M-F, 10am - 6pm, Call: 512-923-9228, email: freedom@allpathsleadom.com