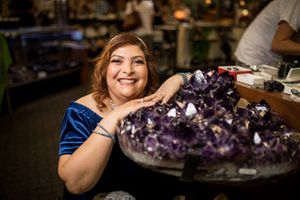 Mia Michel
Akashic Records Consultant
Akashic Records Expert, Intuitive Coach & Healer
Mia Michel has always felt a strong connection with the spirit world. She is descendant from a lineage of spiritual healers and shamans and she got to grow up close to them. Her whole life has been a journey of self-discovery, self-growth, and transformation.
Mia uses her experience, intuition, and tools to assist people in finding purpose and fulfillment in their lives. She is eager to share her knowledge with others while guiding them to become a better version of themselves. She enjoys to see them blossom and reach their full potential while they release and clear blocks as well as old patterns in all areas of their lives. Mia has studied and practiced meditation, ancient wisdom teachings, energy healing, akashic records, animal communication, numerology, dowsing, Pranic healing, intuitive counseling, life and spiritual coaching and much more for over 30 years. She has worked with people worldwide.
Mia is a powerful teacher, gifted intuitive, and healer. She is available for Akashic Records Consultations, Past Lives and Soul Readings, Animal Communication, Tarot and Oracle Readings, Channeling, Spiritual Dowsing, Energy Healings, Chakra Balancing and Aura Cleansing, Spiritual and Intuitive Coaching, Pranic Healing, Angel Healing, Theta Healing, Crystal & Sound Healing, Light Language, Claim Your Life Classes and more.
AKASHIC RECORDS SESSIONS
The Records help you to clarify your vision and clear your doubts. The Akashic Records guide you when you feel lost and do not know which path or course to take. They help you when you feel frustrated or tired from certain situations that you continue to have in your life repetitively on one, several, or all areas of your life. The records can be used to help you break patterns and shut down or close cycles so that you can live a fuller life. The Akashic Records assist you in gaining clarity for your personal and spiritual growth for your highest good.
With the Akashic Records, you can learn more about you and your past lives, it can help to guide you in your day to day or present and to give you an idea of how your future can be and its possibilities.
The Masters, Teachers, and Loved Ones as well as the Akashic Records Keepers provide guidance while responding to your questions during the consultation.
During a session you:
Gain clarity
Release patterns
Remove blocks
Receive gifts, blessings, and healing
Get direction for your life
Solve challenges
ADDITIONAL SERVICES:
Past Lives and Soul Readings
Channeling
Animal Communication & Pet Readings
Tarot and Oracle Readings
Energy Work
Spiritual and Intuitive Coaching
Pranic Healing
Angelic Healing
Chakra Balancing
Aura Cleansing
Theta Healing
Crystal & Sound Healing
Light Language
Services and sessions are offered in English and Spanish. Se Habla Español.